You are not alone in your pursuit of a better life.
The following are a few of the testimonies from Wellspring clients whose lives have improved as a result of counseling.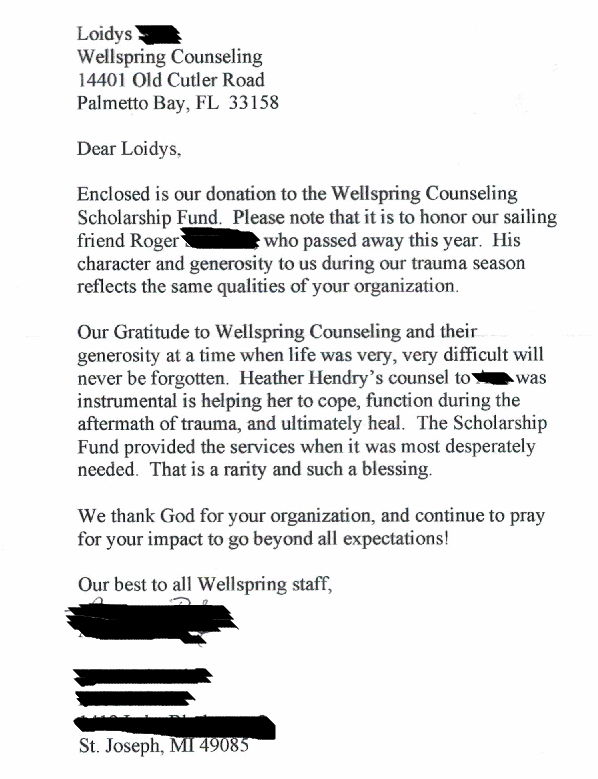 "Bounce! Helped me forgive myself, and also help me with forgiving others."
Female / Age 11 / June 2016
---
"Bounce! Actually helped me get from lost and now I am very happy and unlost! Thanks to you! Thank you for your dedication and all your honesty and being able to actually speak to me!"
Female / Age 12 / June 2016
---
"Bounce! Helped me by feeling relieved and sharing my story and being comfortable with and making new friends... I don't know what would've been of if I haven't came thank you so much!"
Female / Age 15 / June 2016
---
"Bounce! Helped me with the pass event that happened with me."
Male / Age 14 / June 2016
---
"Bounce! Helped me make new friends and have fun. Thank you for making this place a blessing and a great place to be."
Female / Age 15 / June 2016
---
"I listened to a student talk about a difficult moment in her life. She was able to process the way she felt about it with us, and when she finished she said she was proud of herself and felt brave. She said she had never felt that way before."
Female / Wellspring Staff / June 2016
---
"Sharing things that are difficult with people you have never met before and receiving a loving response gives them the hope that they can do it again in the future."
Male / Wellspring Staff / June 2016
---
"Bounce Camp helped me a lot. I went through some tragic experiences and when they came to mind they brought me to a sad state. It's tough because I miss him, he's with the Lord now, but Bounce Camp's 6 steps helped me get through it and allowed me to accept that he's gone and that I can't change my past, I can only make better of the future."
Male / Age 16 / July 2014
---
"I've been struggling with my anger but with Bounce Camp I have learned how to control it, especially with the death of my mom and my dog. Bounce Camp has really helped me a lot in the last few days."
Male / Age 16 / July 2014
---
"My 11-year-old son came to Wellspring because of fears and anxieties that were affecting his daily activities...With the gentle guidance, trust, and understanding of his counselor, he has become more confident and secure. He is less anxious, less fearful, and so much more well-adjusted. We are very grateful."
Parent of Male / Age 11 / August 2013
---
"Heather has helped me so very much...She has an excellent way of helping me put things in perspective. She has given me insight into myself & the reasons I respond and act the way I do. I'm in a much, much better place now after spending this time with Heather, & I'm very thankful that God put us together."
Female / Age 61 / July 2013
---
"My counseling sessions with Wellspring have both challenged me and inspired toward change by God's grace. I have been struggling with sexual addiction for over 10 years and can now say that I am on the road to recovery. My counselor genuinely cared for me and showed it by walking with me through my past, accepting me in the present, and challenging me to a hopeful future. The shackles of shame are being traded in daily for the reminder of freedom and reconciliation in Christ. Thank you."
Male / Age 26 / May 2013
---
"Through our time in marriage counseling, we were able to relieve relational tension and understand one another more fully. Our time spent with Jeff was filled with laughter while working out difficult misunderstandings and facing fears. We received practical advice and Biblical truth. Counseling helped us build a stronger foundation of our marriage and friendship. Thank you, Jeff!"
Couple / Ages 23 & 25 / February 2013
---
"My life has changed completely. My counselor helped me find freedom from the wounds of my childhood. I no longer find my identity in abuse but in how the Lord has created me. This was a safe place for me to work through my deepest pain and fears. I am so thankful for the time I spent here because it will have an impact on the rest of my life."
Female / Age 23 / February 2013
---
"I have been told for many years of my life that I looked upset and mad. That is why I reached out to counseling. My sessions at Wellspring confirmed and negated some pre-existing mindsets I had about myself. They also helped me realize that the solution is something I had to conquer."
Male / Age 23 / October 2012
---
"I have struggled with people pleasing and anxiety since going to the mission field 6 years ago. Eight years ago, my husband and I started counseling at Wellspring with Christine Schlottman. Over these past years, we have been through a lot as missionaries including intense spiritual warfare, abusive leadership, an oppressive ministry environment and many other stressful transitions. Going to counseling has made a huge impact on my life. EMDR has been incredibly healing and restorative. I have felt peace and the strength to face so many experiences and challenges because of my time in counseling. It was a place of refuge and help... I have no doubt that I would have had a nervous breakdown by now. I would recommend EMDR to anyone who is struggling. I am excited to head back to the mission field for many more years of ministry and much more healthy emotionally and spiritually, with the coping strategies in place to thrive."
Female / Age 36 / July 2012
---
"Amazingly, through the help of my therapist and EMDR, I felt a sense of redemption come back into my life. I entered into my sessions with a wounded and heavy heart and with lots of baggage; I left with a renewed sense of joy, freedom, forgiveness and hope. My life isn't perfect and there is more work to be done, but I feel like my time at Wellspring allowed me to remove some of the baggage that I had been carrying can start to clear a path towards future growth and healing in my life."
Male / Age 36 / April 2012
---
"I have to confess that I am a stereotypical male. I'm an executive; people work for me; clients pay me to solve their problems. I believed I can deal with my own stuff, but the truth is I could not. I did something I don't do well -- ask for help. My past was affecting my present far more than I ever imagined. And while I may be judged as "successful" as society defines success, the bottom line is that I lived an emotionally handicapped life. My only regret with seeking support from a counselor was that I didn't do it sooner, and I genuinely believe that."
Male / Age 45 / April 2012
---
"Counseling helped me past my divorce. My husband left me and I was completely unprepared for my marriage to end. He was my whole world. Now I know that I am OK even without him. God is enough for me and I can start over again. I have a new chance to make better choices."
Female / Age 28 / April 2012
---
"Hope is being restored because of Wellspring Counseling! One year ago, my every waking hour was consumed with worry, fear and anger over concern for my daughter. Anxiety had taken over and was hurting me physically, emotionally, and spiritually. As hopelessness slowly took over, my trust in God waned. The journey in counseling has been hard work but because of my counselor's encouragement and help, I have been able to face my fears. Because of this safe place, God has been restoring my hope, joy, and relationship with my daughter."
Female / Age 69 / March 2012
---
"I am so grateful that my therapist at Wellspring used EMDR to help me heal from childhood trauma that had haunted me for too long. In an amazingly short period of time, I've seen the results and felt the difference. My therapist's gentleness, insight, and her skillful use of EMDR have been a blessing to me. I now trust in God and His goodness more."
Female / Age mid-40's / December 2011
Share your story and encourage someone like you to get the help they need.
Please submit your testimonial by emailing us with the following information. Be sure to note the disclaimer* written at bottom of page.
Gender
Age
How did you hear about Wellspring?
How was life before your counseling sessions with Wellspring?
How has your life changed since your counseling sessions with us?
What advice would you give to someone considering counseling?
*Disclaimer: If you are sharing your story with us, we will never use your name in order to protect your privacy. We will never share any medical information to honor all HIPPA Privacy laws. We will only share what you will allow us to share via this form. Please keep this in mind as you share your story with us. Testimonials given are individual/group experiences, reflecting real life experiences of those who have used our services. The testimonials we chose to display are given verbatim except for correction of grammatical or typing errors. Some will be shortened, meaning; not the whole message received by the testimony writer is displayed, when it seemed lengthy or the testimony in its entirety seemed irrelevant for the general public. By submitting your testimonial you give us permission to reprint, reproduce or use the testimonial in connection with our business.