Wellspring Events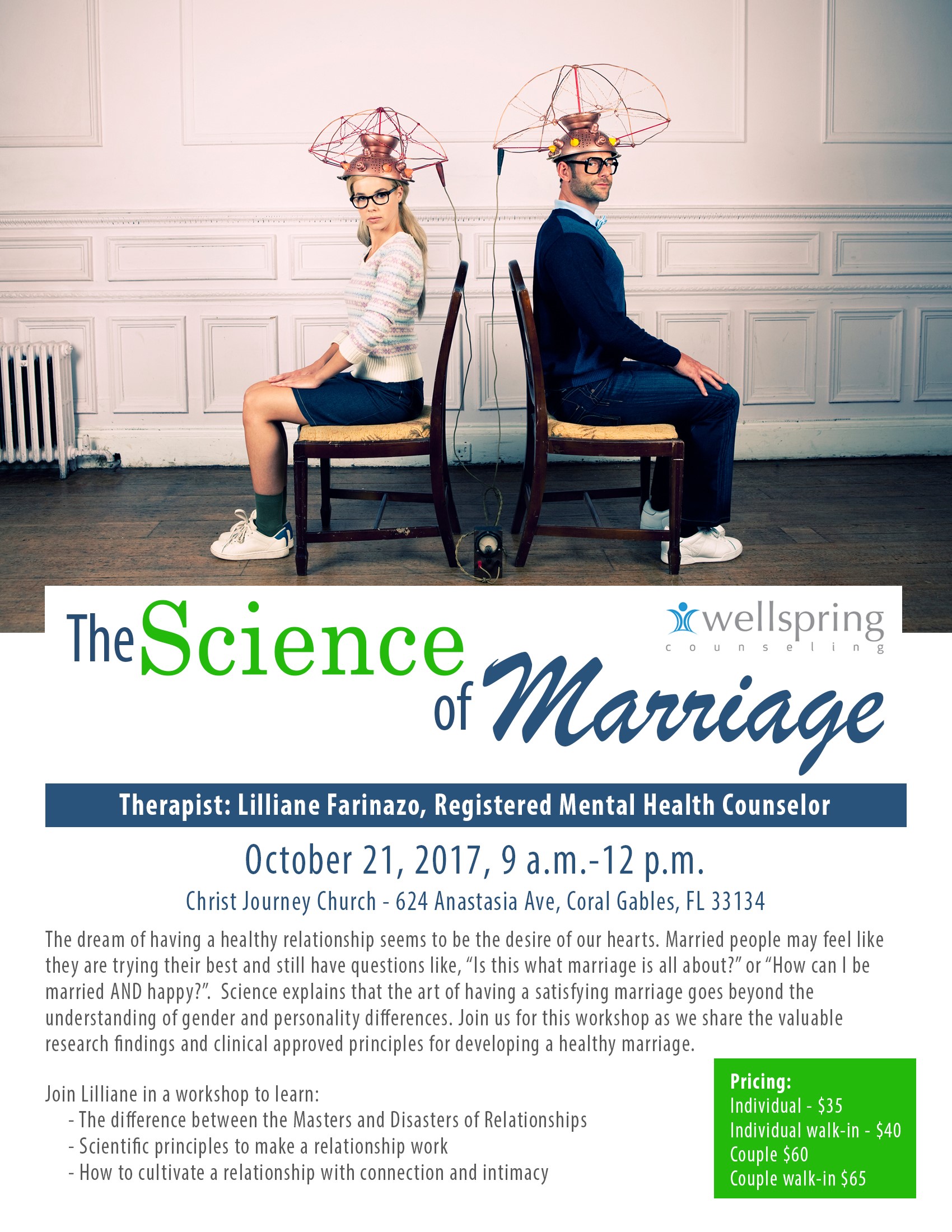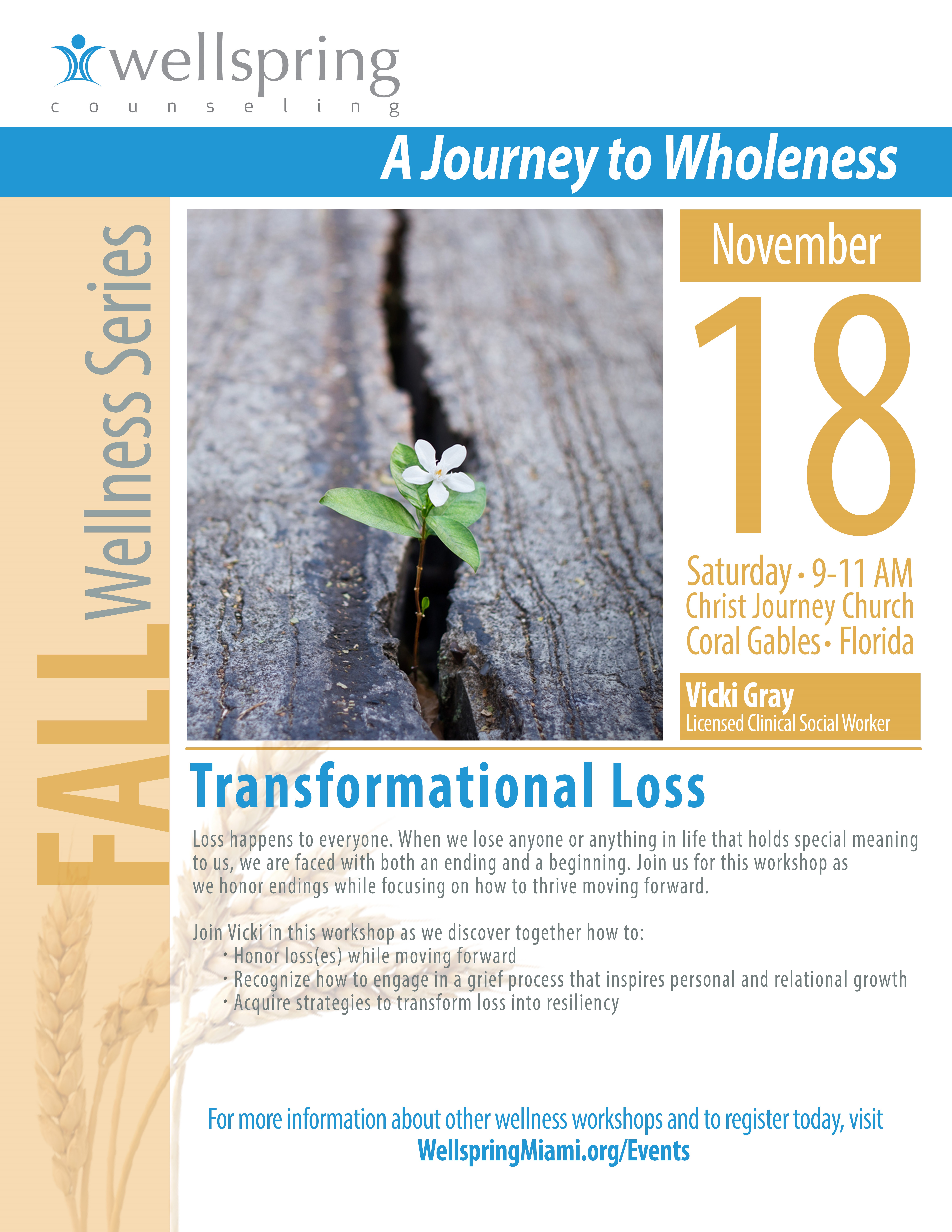 Therapeutic Groups
Truth Applied ~ to Relationships
In this discussion-oriented class, Tova Kreps will explore some Biblical principles that pertain to all types of relationships. Come learn how to apply what the Bible says about relating to your children, families and friends. Date: TBD
For additional information and to register, please contact Tova Kreps at tova@wellspringmiami.org
How to Control Out-of-Control Emotions
Humans are emotional beings. Oftentimes those emotions become intense and can begin to govern our actions and thoughts. This group will help you become more observant of your emotional processes, in order to decrease the intensity of those emotions, and make healthier choices about how you will respond, rather than react. Contact for date and time
For additional information and to register, please contact Guillermo Cancio-Bello at guillermo@wellspringmiami.org
Poetry and Therapy
Poetry, in both its written and spoken form, has healing potentialities that promote self-reflection as well as connection to shared experiences. This group is formatted around the intentional use of the written and spoken word as a catalyst for healing and personal growth. Contact for date and time.
For additional information and to register, please contact Guillermo Cancio-Bello at guillermo@wellspringmiami.org
Breaking the Eggshells: Co-Dependent No More
This group is for women who find themselves providing excessive support to a partner or family member. The group will address boundaries, healthy relationship skills, emotional self-regulation, self-esteem, and more. Contact for date and time • Wayside Baptist or Christ Journey
For additional information and to register, please contact Patricia Slalow at patricia@wellspringmiami.org
Support for Women whose Partners Struggle with Sexual Integrity
Women whose spouses or partners struggle with sexual addiction often suffer in isolation. Our desire is to create a safe place where women can process and heal from the trauma of betrayal. If this is your experience, the focus of this group will be your own healing. Contact for date and time • Old Cutler Presbyterian Church
For additional information and to register, please contact Christine Schlottman at christine@wellspringmiami.org or beth@wellspringmiami.org
---
Training for Intentional Listening Basic and Advanced Seminars
Facilitator: Tova Kreps, LCSW
Description "TIL We Listen", 101 - Basic Seminar: A general listening skills class designed for anyone wishing to love people well and communicate better with family and friends through the skill and art of listening. The seminar is interactive and experiential. The group will work on a craft, included with the cost of the seminar. Lunch will also be provided.
Date: TBD
Cost: $87, craft and lunch included.
Description "TIL Trained Listener", 201 Advanced Seminar: The 101 Basic Seminar is a prerequisite. This day teaches Christian leaders or gifted listeners about the effects and remedies of trauma and negative life events on individuals. It includes practicing listening skills to provide emotional resolution of those events.
Date: TBD
Cost: $67, lunch included.
The Training for Intentional Listening Ministry is designed to motivate, inspire, and train people around the world to listen intentionally to each other's personal stories of negative life events, allowing the story-teller to discover and apply truths regarding the events in order to find resolution.
"People don't attend to their painful stories… until they are safe enough and loved enough to face them, and until someone asks and is willing to listen. But… healing waits for the story to be told." TJK
For an in-depth overview of the Training for Intentional Listening ministry, click here.
---
"Food, Fences, Friendship and Fear"
Facilitator: Tova Kreps, LCSW
Date & Time: TBD
Location: TBD
Description: Sometimes, seeing concepts in a different context can help us learn new things. This Equine Assisted Learning workshop will teach some basic principles about human relationships by learning about and practicing them in the realm of horses. The goal of this short training is to introduce elements that influence, for better or worse, all of our relationships, and then to apply new ways of interacting to our own lives for the better!
Spaces are limited
$40 fee to audit (all teaching and observation included)
$60 fee to participate (includes personal practice with horses)
---